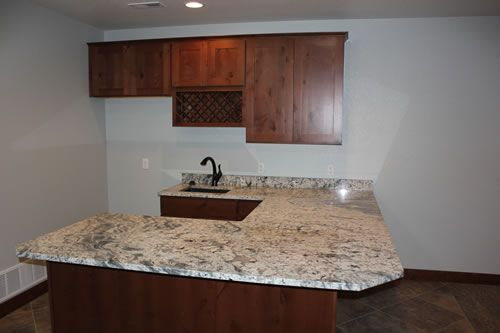 Have you ever wondered how to finish your basement or do you currently want to finish your basement? If you are looking to greatly increase the enjoyable space in your home, you may want to explore turning your basement into a beautiful living space. Finishing your basement is the most practical and economical way of greatly increasing the living space in your home. As a locally owned and family operated company, we strive to provide an integrity based, quality driven experience for you.
Often people feel intimidated to finish their basement as they don't know where to start and can't adequately visualize the projected end product. In addition to being a general contractor who will create a beautiful space, we offer in-house design services which include the ability to view and navigate your design in a three dimensional format. Based on your desires and budget, we can provide as much, or as little, detail as you wish to see in your animated design before you begin the construction phase. All this allows you to realize the true potential of your space and affordably make revisions before you begin the construction phase.
Create A Customized Space
We avoid a "one size fits all" model by actively working beside you to create a customized space you and your family will enjoy for many years. We have the knowledge and experience to help you create the overall design as well as select various details, accents, lighting options, custom built-ins, bars, entertainment walls and other custom features to develop your dream space. Our attention to detail is second to none. We can create a natural expansion of your main level living space by following similar design characteristics or exploit the fun opportunity of creating an entirely different design, feel and concept to enjoy. One thing is certain, we will treat your project with the same care we would treat our own.
Please take the time to explore the remainder of our website to learn more about us, our philosophy and the services we provide. From our family to yours, we thank you for considering our team as your next general contractor to enhance your home.