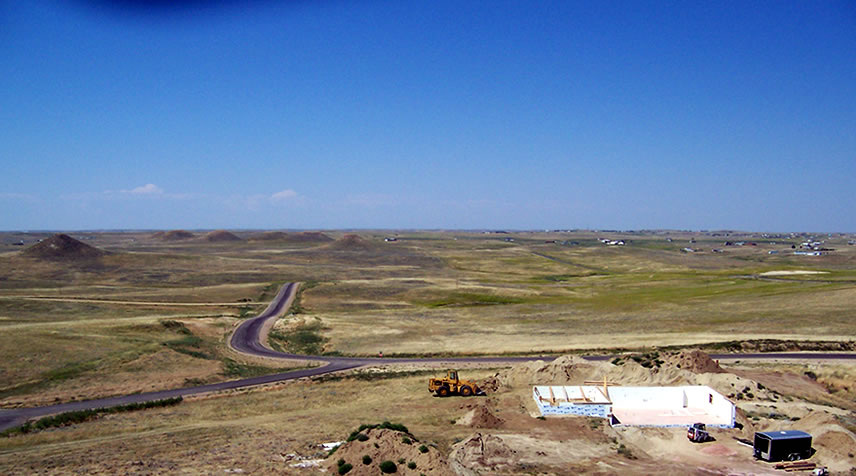 Are you tired of nearby neighbors and all they bring to your home environment? You know, pesky things like sounds of music late at night, overhearing conversations, slamming doors and vehicle noise? Would you like to have more parking space, a larger yard to enjoy or a little less pressure from various City ordinances? If these outline your desires, you should definitely explore Red Hills Subdivision in Gillette Wyoming!
We have built multiple custom homes in Red Hills Subdivision for people who are seeking the same things you are. Red Hills offers many great benefits you won't obtain in other locations around the City of Gillette such as:
PAVED AND SERVICED ROADS! Yes, no more filthy muddy vehicles and rock chips commonly associated with living in the County. The roads in Red Hills are asphalt and are routinely plowed by the County in the winter. Better yet, the school bus picks kids up right in front of their houses!


CITY WATER! What a HUGE benefit this is. No more having to worry about maintaining a well, varying water quality, high well installation costs, etc.


NEAR TOWN! You are only a few minute drive from your home on several acres to all Gillette has to offer. Try finding that in town! It is no secret Gillette has been developing and moving predominately in a southern direction. This means new and existing businesses, services, etc. will not be getting further from you they will continue to get closer. We have lived in Red Hills for years and initially worried about the distance to town. After eight years, we can definitely say that is of no concern!


NOTHING ELSE LIKE IT! There is currently NOTHING in the surrounding region where you can live on five acres (some are more, some are less), have paved roads, City water, and be close to town; therefore, we believe homes in Red Hills will maintain value for many years to come.


QUALITY CONTROL COVENANTS BUT LESS GOVERNMENT RESTRICTIONS: Have a camper you would like to keep at your house now but have no space on your property? In Red Hills, we can develop your site to accommodate whatever you want such as parking, shops, etc. No more worrying about discovering a ticket for parking your trailer on the street too long due to city ordinances which are more strict than County regulations. No need to worry about the neighborhood rapidly deteriorating and risking your investment either. Red Hills H.O.A. has building covenants to prevent the community from turning into what many neighborhoods have.


MORE SAFE SPACE FOR KIDS! No more worrying about a steady flow of speeding traffic through your neighborhood. Your kids will have plenty of space near your house to stretch their legs and play. Heck, want a volleyball or basketball court? What about horseshoe pits, a gazeebo and many other things there is no space for on a city lot?
If you would like to enjoy some of these benefits we invite you to contact us. We know Red Hills far better than any other builders. Not only have we designed and built multiple homes in Red Hills, we were the first to start building there and have lived there ever since! In the rare event you have a question we haven't already encountered or don't know the answer to, we can quickly find the answer as we have a direct line of communication and business relationship with the developer as a result of our many years invested in the Subdivision. If you would like to learn more about our ability to design and, or, build a home for you and your family please explore our website.

Our mission statement is simple: "Integrity based, quality driven" in everything we do. We personally know the benefits of living in Red Hills as we have been here from the start, have watched it grow and would like to work with you so we can call you neighbor as well.